Wilnecote – Shower Room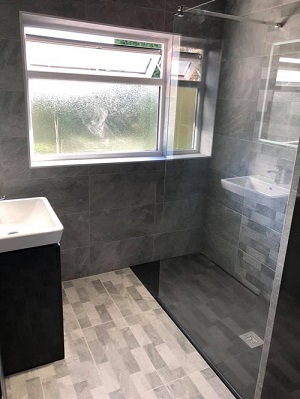 When it came to helping this couple renovate their shower room, we learnt what kind of style they were looking to achieve. They leaned toward the darker tones but also wanted texture, which we incorporated by using a slate tray and textured tiles on the floor.
A Level access tray was important to the couple for accessibility, so we worked with installers to ensure that was possible.
We also had a bespoke airing cupboard door made to compliment the furniture.
Concealing the shower was ideal to keep cleaning to a minimum, and an illuminated mirror above the basin created a mood light that was ideal for a relaxing shower or visits to the toilet in the middle of the night.
Products
Acquabella slate shower tray
White space furniture
HIB mirror
Vanity Hall bespoke cupboard frontal
Vogue Tiles
Kudos glass.
Project Gallery
Fitted by Rob Hough