Hints – Shower Room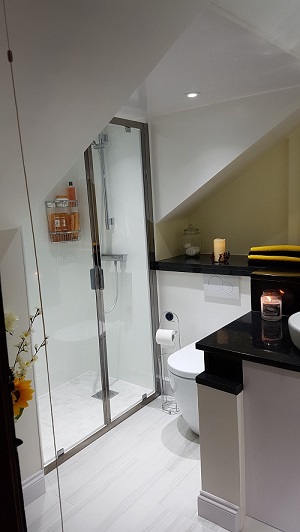 Another interesting project we completed was this unusual shaped room in Hints. The room had particularly low height ceilings and a stair rake under the basin to contend with.
Removing the bath and building the walls out either side of the shower, meant we were offering the client the best place to stand, with limited ceiling height, for a shower to be enjoyed. It did mean covering up the window, but the client didn't mind as the shower space was important and we compensated by adding additional lighting. Bespoke glass doors were made to suit the low ceiling height and the doors were able to be pulled outward or pushed inward, so when the shower was not in use, it would open the room up to feel more spacious.
The stair rake posed an interesting dilemma as it is not the usual set up we see. However, we overcame this by putting bespoke doors on the frontal, so access below the basin was possible.
We then had to get a mixture of kitchen and bathroom sized worktops to match and then cut them to suit the work surface space visible. The client then finished off with a yellow paint to brighten the room up.
Products
Novellini bespoke glass
Nuance wall panels
Vanity Hall bespoke furniture
HIB mirror
Nuance countertop
Grohe shower
Project Gallery
Fitted by Rob Hough