Glascote Lane – Bathroom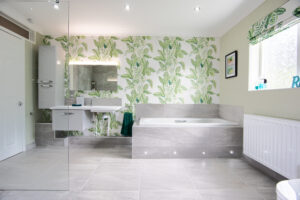 Working on this project was a pleasure as this family often have less abled visitors and that was the focus of creating the room.
It needed to offer a level access shower area big enough for a wheelchair and products that would aid in giving its users as much independence as possible.
We started off by using a level access wet deck that was wide enough for a wheelchair but also incorporated a bench so that a wheelchair user could slide on to this whilst using the shower space. The shower itself is a smart shower and is controlled by a remote control so that the shower can be switched on without having to enter the space and get wet.
We put the bath into some boxing so that again, someone less abled could use the ledge to slide onto and then use the grips to lower down into the bath.
The basin was bespoke so it could be set at an appropriate height and storage could be added in for everyday essentials.
The WC is a bidet toilet, allowing the user complete independence as it can be controlled using a remote.
To give the room interest and ensure that it didn't look clinical, we used lighting around the bath which was also on a motion sensor giving it a dual purpose. Not only decorative but comes on in the night to allow the user enough light to see and not wake them up with blinding light.
Products
Wetroom innovations wetdeck
Aqualisa shower
Bette steel bath
Wedi bench
Kudos glass
Vitra WC
Tavistock furniture
Acquabella basin
JIS rail.
Project Gallery